Stream of conscience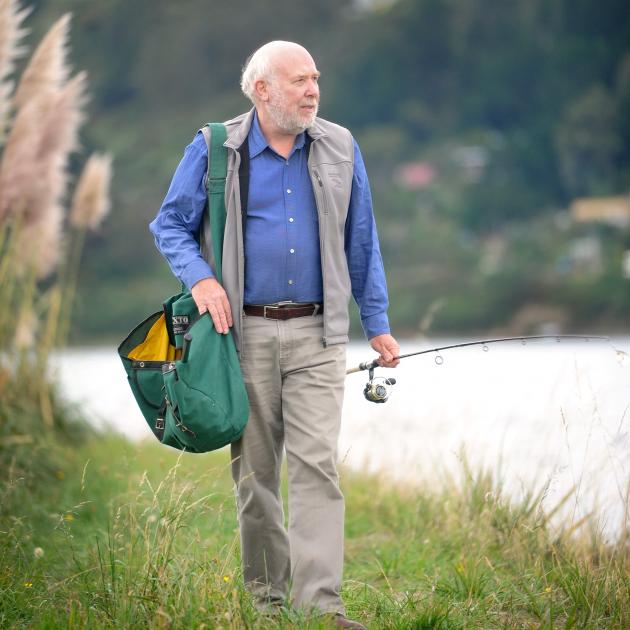 Retiring Fish and Game boss Niall Watson is clear about who is at fault for the poor state of our waterways. He sees, in his organisation, a better model for the future of sustainable resource management, writes Bruce Munro.
Niall Watson does not blame unhealthy waterways for his lack of fishing or hunting success.
It is early afternoon, midweek. The man who has been at the helm of the Otago Fish and Game Council for almost four decades is sitting on a grassy knoll near the concrete mouth of Dunedin's Water of Leith.
He is talking animatedly, passionately, of events during his about-to-expire tenure and of what remains undone.
A few metres away, young mullet repeatedly breach the water surface, fleeing something deeper, larger, maybe even salmon.
Salmon have proved rather elusive this season, Watson says.
Although, that said, he knows of two anglers who have each caught one in Otago Harbour in recent weeks. And he himself almost snagged a salmon a couple of weeks ago.
"I hooked one down here on the breakwater. But I lost it, which was a bit of a bugger," he says.
Yes, he attests, it was a good sized one that got away.
"Well, what did you expect me to say?," he adds with a hearty laugh.
"I hunt and fish. But I'd have to say I'm no better than average. I do enjoy it and I'm surrounded by experts, but I've managed to maintain a modest level of skill in both areas."
While he freely takes responsibility for his lack of fishing and hunting prowess, Watson has no problem pointing the finger when it comes to the poor health of the region's, and the country's, rivers and lakes.
Water quality is a topic that keeps him awake at night, and has done for the past 20 years.
"It's one of the two big issues facing Otago and New Zealand," Watson says.
"The rivers are still there. They've still got fish in them. But their productivity and health has been degraded through nutrient and silt input.
"Waterways are not the places that we grew up with."
Despite the National Government re-grading rivers and lakes last year, giving more waterways the tick of approval for swimability, evidence points in the opposite direction.
Regional council water quality monitoring throughout New Zealand shows 65% of pasture-area waterways now have levels of nitrogen high enough to cause algal growth. Forty-four percent of New Zealand lakes are so polluted by nutrients that they have become eutrophic, deprived of oxygen.
NIWA monitoring shows that across 62% of the length of all New Zealand waterways, ecoli, which are an indicator of faecal contamination, are, at some point of the year, at levels considered unsafe for any physical contact. Between 1992 and 2013, the percentage of native freshwater fish species that are at risk or threatened rose from 20% to 74%.
Watson has no doubt the primary cause is the intensification of agricultural land use.
"A lot of people try to say the state of the rivers reflects a hundred years of land use. But it's relatively recent, the real declines: 15 to 20 years of land-use intensification.
"Otago is protected from the worst of it by our geography. While Southland and Canterbury have been really hammered by agricultural intensification."
But the blame, he says, is government's, both local and central.
People get too hooked up on farmer performance or behaviour, when questions should really be focused on whether the permitted agricultural activity is too intense for the landscape, he says.
"Environmentally, some farmers run very good operations and some very bad operations. But it's the underlying intensity that gets overlooked far too often. How much can a catchment sustain and still have a healthy river?"
The Otago Regional Council has introduced a plan change, 6A, to tackle rural water quality. But Watson worries it will not be implemented successfully.
"The rules come into force in 2020. I know there are farmer groups in the Pomahaka and Upper Taieri who are working hard to get to grips with land management. But I still fear the whole region could fall short in terms of meeting the standard."
He does not believe fresh water resources have been given the management they deserve.
"There's nothing much wrong with the Resource Management Act. I feel the failings have been at a local government and a central government level, and particularly at central government level. There's been a failure to bring in national policies early enough to deal with land use intensification and water allocation.
"We are suffering because of that. We now have to dig our way out of that if we are to see our waterways restored. And I'm not just talking about Otago, but right across the country.
"The last Government, particularly, sat on its hands over water for the sake of letting agricultural intensification move ahead. It was a reasonably cynical response. They saw agricultural development as a major thread in their economic development programme and they weren't going to put anything in the way of it. The environment suffered as a result."
Strong views for someone who could be seen as the head of a hunting and fishing lobby group.
That is a far too limited view of Fish and Game, an organisation that has a heartfelt and active commitment to creating and protecting a sustainable environment, Watson responds.
BORN in England, raised in Australia and New Zealand, he studied to be a geologist at Victoria University, Wellington, before moving into aquaculture sciences.
Work in Australia and Europe during the 1970s was followed by a return to New Zealand and a job with the Acclimatisation Society, in Wellington.
In 1981, he and his wife Julie shifted to Dunedin where he became manager of the Otago Acclimatisation Society. When Fish and Game Councils replaced Acclimatisation Societies in 1990, Watson became chief executive of the new, expanded, Otago Council – a title he has held ever since.
People have trouble identifying what sort of group Fish and Game is, he says. Many think it's an NGO.
"But we're not. We're a statutory agency."
It means that each of the 12 regional Fish and Game councils and the New Zealand Fish and Game Council have been given delegated responsibility by Parliament to manage trout and salmon fisheries and game birds.
"It's important to understand that trout and salmon are protected under law, that they are effectively a public resource. We essentially are managing public resources on behalf of those who want to enjoy them."
The councils report to Parliament but have a high level of independence.
Funding comes, not from government, but solely from the sale of fishing and hunting licences.
(That does not apply to Taupo Region fishery which is managed by DOC – Department of Conservation is a Government Department.  License fees in Taupo Region go directly to Government… )
That could seem a precarious existence, but Watson says it works well.
"It has proven to be pretty reliable really, compared with funding sources that are at the whim of government."
Otago, with its rich variety of trout, salmon and game bird habitats, sells the most licences every year. Sales generate about $2 million; half of which funds the Otago council's work while the rest goes to the national council for nationwide initiatives and distribution to less well-heeled councils.
"Certainly, we do some lobbying. But I think we are much more than just a lobby group. We have a statutory management role for trout and salmon and game birds. So, we're supposed to make sure they get protected and managed sustainably."
One of the big battles the Otago council fought early on was for the future of the region's wetlands.
"In the early days, we were involved in major rows about wetland drainage at lakes Waihola and Waipori (north of Waihola) and Tuakitoto (near Kaitangata) and the Upper Taieri Maniototo Wetlands."
In the opposite corner, pushing for wetland drainage, were catchment boards and government departments.
"We weren't successful in all cases. What tended to come out of those debates was some wetland drainage and some wetland protection.
"It seems incredible today to think that those three major wetlands were under threat. But they were. Times have changed. People began realising that big areas of wetland deserved better protection than they were getting."
The council was arguing wetland values were important conservation values. It was not just a smokescreen for promoting blood sports, Watson asserts.
"Undoubtedly, we were motivated by the fact that these were productive areas for water fowl and that they were important recreation areas for hunters.
"But nevertheless, the resources we manage rely on natural ecosystems. People can see that as self-interest, but these are public resources and people want to protect these resources for future generations."
The battle is not over, he says.
"Wetlands have got greater recognition. But they need active management; weed control, water level control. They need better management, and that's a regional council responsibility, we think."
A voice interrupts.
Taking a late lunch break and planning to chance his arm with rod and reel in the Leith is Fish and Game officer Steve Dixon.
"This is probably why you don't catch any salmon Niall," he jokes.
"You're supposed to have your rod with you."
Twenty minutes later, and with nothing to show for his efforts, Dixon is on his way again.
"The water is too clear," he says.
"We need a fresh or a big wind out in the harbour to bring in a bit of coloured water."
He spots another angler pulling up in a car.
"There's nothing there. You might as well just go home," he tells the crestfallen fisher.
If water quality is one of the biggest issues New Zealand faces, water quantity is the other on Watson's radar.
"Water quantity and quality are present and future challenges. Particularly in Central Otago where they have historic over-allocation to out-of-stream use," he says.
In recent years, there have been increasing reports of Otago rivers running low, and in some cases dry, during summer. In Central Otago, this is exacerbated by water extraction rights that date back to the gold mining days of the 19th century.
"In the gold rush era, water was allocated without consideration for how much water there was. And those rights were carried forward and are now used for irrigation."
But change is coming.
The Resource Management Act (RMA) set 2021 as the deadline for mining privileges to be phased out.
"All the people who irrigate based on mining privileges have to replace them with resource management consents or they will lapse. And RMA consents can be expected to have conditions on them to protect the environment."
It is, however, an enormous job.
"There are hundreds of these things. And each one of them is quite complex. So, all of us are embroiled in trying to work through this great log jam of mining privileges."
Most people do not realise how important a change it is, Watson says.
"The law change was intended to bring a better result. But the RMA came in 30 years ago and people have lost sight of it. People need to see this transition from mining privileges as a major event; a major reallocation of water within the region."
The result should be significant and positive.
"Our expectation is that the environment is going to get a better deal out of it. Rivers that have dried up will flow again during summers, or have an improved flow.
"So, it will be better for the environment and better for recreation and better for the fisheries."
But Watson does have one warning.
"The risk is that the workload is such that the regional council will focus more on processing the consents than on getting good environmental outcomes."
As he plans his exit, Watson is bullish about the role of Fish and Game councils.
In fact, he sees in them a better model for the future of New Zealand's sustainable resource management.
Fish and Game councils are a longstanding and successful example of "co-management", he says.
"They are unusual in that the responsibility for a resource has been devolved to a user group."
At the heart of each Fish and Game region is a council whose members are elected by other local hunters and anglers who are on the electoral roll.
"Council members take their responsibilities seriously, they are highly motivated and they are all volunteers." 
(Compare that to DOC … Is that why so many anglers want F&G to take over the Taupo Fishery – perhaps they want to volunteer?)

The idea of co-management is coming back into vogue, and with good reason, Watson says.
Taiapure and mataitai fishery protection areas, managed by local iwi, are examples.
"So, [devolved responsibility means] there's local control. The theory behind it is that local people will care more about good management of natural resources and that they are highly motivated to ensure that there are good management outcomes.
"I think it is a good model, something that deserves greater consideration in other areas of resource use."
Watson formally retires at the beginning of next month.
His replacement is the organisation's operations manager Ian Hadland.
Completing the redevelopment of a holiday home just outside Cromwell and visiting a grandchild in Sydney are on Watson's retirement to-do list.
"My motivation for retiring is to get a bit more flexibility into my life and a bit more time for my own interests. It's been reasonably demanding over a long period of time.
"A change of pace and balance is what I'm looking for."
Looking back across the decades, he says his biggest disappointment is how land use has impacted rivers.
"In some respects it's always felt a bit like a rearguard action. We're trying to minimise the impact of changing land use; we're not really able to get on the front foot.
"So, that is a disappointment, that we haven't been more successful."
At the same time, he believes Fish and Game has helped bring about the water quality planning that the ORC has undertaken.
He takes greatest pride in the part his organisation played in protecting the Nevis River.
"The most tangible win we've had, has to be getting the Nevis River recognised for a range of outstanding values and protected from hydro development."
The Nevis runs south to north, midway between the Clutha River and Lake Wakatipu.
A seven year campaign concluded successfully in 2013 when the river was not only formally recognised for its outstanding trout fishery, landscape values and native fish values but also received a ruling preventing it being dammed for hydro-electric generation.
"We've had a lot of development in Otago. Some rivers deserve just to be left the way they are. And that includes the Nevis."
Opening the boot of his car and pulling out a fishing rod, Watson says he will continue to keep an interested eye on things, albeit from a distance.
"I'm certainly not retiring because I am bored of the job. It's maintained my enthusiasm and interest for a long time."
He hopes the new Government can bring about the needed changes.
"Certainly, a lot of people have high expectations of some kind of turnaround.
"It's not going to be easy. But something needs to happen if we are going to have lakes and rivers to enjoy into the future."
And right now, he's off to enjoy a spot of fishing.