The current debate about charging for water should not open the door to tradeable water rights says a national trout anglers organisation. The NZ Federation of Freshwater Anglers has opposed the right of water use holders to sell those rights, a system not unlike sea fisheries quotas.
Ken Sims of the Manawatu and spokesman for the Federation said tradeable fish quotas had resulted in the resource being dominated by big corporate companies who buy up rights thus aggregating quota.
"In a relatively short time it becomes monopolised by the big corporations," he said. "This monopoly is reflected in the undue excessive political pressure that corporates put on government both ministries and ministers."
Ken Sims said water was essentially a public resource. He rejected the immediate past prime minister John Key's opinion that water belong to no one. "It's public property irrespective of wealth, ethnic background or social class. New Zealand is an egalitarian country and water reflects that," he said.
He pointed to the fact that in some overseas countries, recreational groups have had to 'buy back' water rights from corporations, just to ensure that natural ecosystems and flows were maintained.
The New Zealand public, and recreational waterway users, see the trade in water rights, as already occurs in some South Island areas, as just another example of the agricultural industry 'thumbing its nose' at the public's ownership.
"This has to stop" Ken Sims said. "It's public water. If you don't want what you have been allocated, then leave the stuff where you found it".
Laws should be implemented to prevent the direct "wheeling and dealing" of water rights by prohibiting trading in it, he added.
Meanwhile – more interesting fishy good news stuff:
Gisborne man's week off work to go fishing pays off with a whopping $37,100 in prize money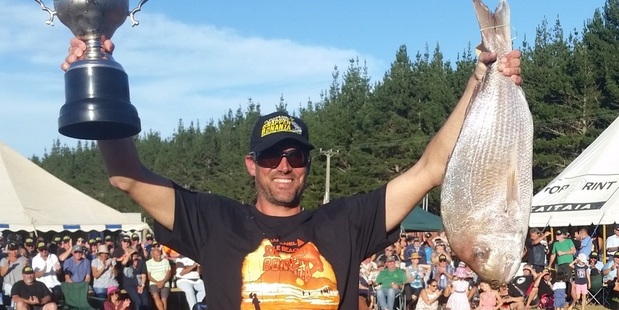 Chris Spurr took leave without pay for a week and hoped to win at least $1000 from a fishing competition to cover loss of wages.
Instead, he and three mates took home a whopping $37,100 in prize money from the Durapanel 90 Mile Beach Snapper Bonanza that attracted the biggest turnout in the competition's seven-year history.
About 835 anglers entered and caught 880 fish in beautiful conditions over the competition which ran from Tuesday to Saturday.
The father-of-three from Gisborne landed the heaviest fish in the competition, a 6.175kg snapper, and won $30,000 cash and a further $2000 for catching the heaviest snapper on the day on Wednesday.
As a team they bagged another $5100 during the competition.
He rushed home yesterday to celebrate his first wedding anniversary.
Mr Spurr's winning snapper took the bait about 8.30am, dragged him about 50m and his line tangled into another fishing line.
"There were multiple fishermen to my right at the time. I knew it was a good fish but didn't think it could end up being the heaviest. It looked to be an average fish.
"It measured 66cm but because we didn't think it was big enough to be weighed, we put it in a chill bin and continued fishing," he said.
Tourist stats?
What is happening re China inbound and outbound ?
Overview of latest international travel trends …..
Provisional travel statistics for major source and destination countries …..
Four weeks ended 5 March 2017

International visitor arrivals
Total visitor arrivals are up 9% compared to the same four-week period last year.
UP: Canada 33%, USA 28%, India 28%, UK 18%, Germany 17%, Korea 13%, Singapore 9%, Japan 8%, Australia 4%.
DOWN: China 25%.
New Zealand resident departures…..
Total trips abroad by NZ residents are up 22% compared to the same four-week period last year.
UP: Indonesia 59%, India 51%, China 49%, Cook Islands 34%, Thailand 26%, USA 23%, Australia 17%, Fiji 13%, UK 11%.
DOWN: Samoa 12%.

Source: Statistics New Zealand