Increasing numbers of young international trampers are involved in serious incidents in New Zealand and the Mountain Safety Council is looking at improving how safety information is being distributed.
A Walk In The Park?, the latest report from the Mountain Safety Council, has delved into the data around tramping in New Zealand over the past decade, showing a steady rise in participation, but also in injuries and rescues.
Its release today comes after the coroner concluded this week two trampers found in the Tararua Forest Park in 2016 died of hypothermia less than a kilometre from a hut and were not prepared for the changeable weather.
The MSC report found there had been over 40,000 tramping-related injuries over the past 10 years in New Zealand, and an 83 per cent annual increase.
Mountain Safety Council communications manager Nick Kingstone said the report aimed to find tramping-related issues at regional levels, and be used by groups working to make tramping safer in New Zealand.
"How we focus our efforts in different regions should change based on the particular issues. This [report] is a starting point for the industry and different sectors."
Kingstone says MSC will look at how information about possible dangers is shared with international visitors who are accessing our outdoor playground.
More than 1.5m people went tramping in New Zealand last year, including 602,766 international visitors – a 34 per cent increase since 2014.
Of 2017's international visitors 45 per cent were aged 20-34.
While the number of Kiwis and international visitors involved in incidents was roughly proportional, young visitors were more likely to be involved in search and rescue operations and fatal incidents than their Kiwi counterparts.
In 2017 about one in every 3000 international trampers between the age of 18 and 34 was involved in a rescue, compared to one in 4000 New Zealanders of the same age.
Of the 57 fatalities in the past decade, 56 per cent were New Zealanders and 44 per cent international visitors.
This figure has also been increasing. In the five years since 2007, international visitors made up 39 per cent of fatalities; however in the five years to 2017 they made up 48 per cent.
Tongariro Crossing, dubbed one of the world's greatest day hikes, ranks first in the country for search and rescue operations.
The 141,000 people who hiked the track in 2016/17 was almost double the amount who did so in 2010/11. An estimated 75 per cent of those were international visitors.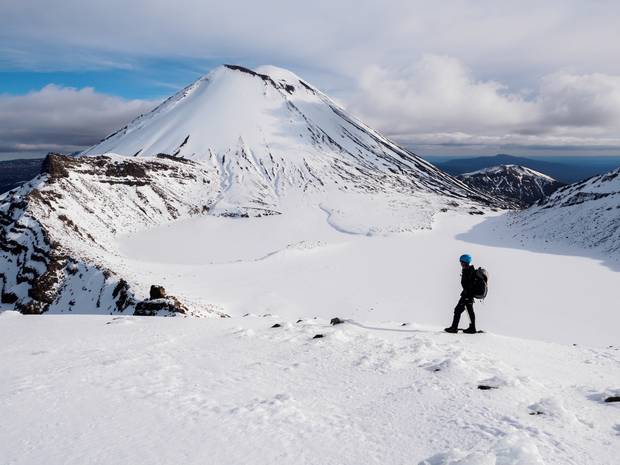 The hike has become increasingly attractive after the Lord of Rings films set neighbouring Mt Ngauruhoe as the imposing Mt Doom.
Over the past seven years, there was a 168 per cent increase in rescues in the central North Island, the vast majority on the Tongariro Crossing. The 226 incidents made up 10 per cent of the total in New Zealand.
Of those, 66 per cent involved international visitors, more than double the national average.
Those rescued were also more likely to have suffered serious injuries than the national average.
Many of the injuries and people who became lost due to poor visibility occurred around Red Crater and on Mt Ngauruhoe.
In June, a 30-year-old English woman slipped on ice at Red Crater and fell 100m down the mountain into a ravine.
She had set out at 4am to hike the track with a young Austrian companion, before falling about 7.30am.
At the time Senior Constable Barry Shepherd of Taupō Police said there was always ice up there at this time of year and people needed to be better prepared, using crampons and ice axes.
Kingstone said many people were not aware of how long or cold the track was.
"If someone does it in winter it means they need to start and finish in the dark. And if they are dressed for 15C in Taupō they might struggle with -5C on the summit."
About 220,000 international visitors and 41,000 New Zealanders go tramping in the Queenstown Lakes region each year, where in the past four years injuries have increased.
Rescues to Ben Lomond track, which rises above the Queenstown CDB, was fifth equal in the country, alongside the Routeburn Track.
While the report did not cover social media, Kingstone said anecdotally it could be a driver of participation to some of those hot spots.
"For example Roys Peak has quickly become the photo to get, almost a southern Cathedral Cove."
Annually 64,000 people visited Roys Peak.
"But it is quite exposed and the weather can change dramatically.
"People are getting their information about tramping from different places. We need to be able to better anticipate where the demand will be, and be able to better prepare people going to those regions."