Budget update:  $100 million water clean-up on list
A $100 million fund for cleaning up rivers and lakes in included in the Government budget.  The pre-announced contestable fund is to be spread over the next four years will target clean-up projects providing 'clean environmental benefits'.  But environmental groups are concerned the fund will be open to irrigation schemes which have caused the problems.
Anne Salmond: Water is too valuable to squander
Call for commission to save NZ water
Environmentalist and academic Dame Anne Salmond is calling for a waterways commission to urgently take charge of the country's water, warning that killing the waterways would be dangerous for society and the economy.
Her call is backed by the Māori Council, but farmers and at least one environment group say it will not work.
Dame Anne said people feared they were losing control of the water to private interests and that more lakes and rivers were becoming dangerously toxic.
"You've got lakes like Lake Forsyth down south, which is so toxic it's killing sheep and dogs and that's a kind of signpost to the kind of future where we might be heading."
The battle over water had become so contentious that iwi, farmers, clean water campaigners and other groups needed to find common ground.
"We need a solution that gives everybody a stake and a way of seeing that everybody benefits."
An independently run Waterways Commission would be funded by user charges on commercial users like bottled water and irrigation companies.
Dame Anne, the patron of Te Awaroa, A Thousand Rivers, an organisation committed to saving the rivers, said the challenge was to make sure that water did not turn into a commodity where the profits flowed into the pockets of a few.
The commission also had to help communities to restore and care for the waterways before it is too late.
"If we kill off our waterways that's a very dangerous thing to do to our economy to our society. It's not just about being able to swim in the waterways it's having lakes and rivers and estuaries and streams and springs that don't kill."
The Māori Council chair Sir Eddie Durie said water was the biggest issue Māori was facing.
"We're dealing with a resource that's becoming a worldwide scarce resource and we are setting a pattern now that will affect future generations. It is the last frontier, if you like, in our resource development programmes."
Sir Eddie said water should be owned by everyone but a waterways commission would allocate a proportion of the money from the user charges to promoting Māori association with the water.
He said a commission could be modelled on the fisheries quota management system set up about 30 years ago.
"This body is tasked with ensuring what sort of flow must be maintained to ensure that we end up with water bodies that would provide for local fisheries, and which is swimmable not wadeable, and which can ensure that there is free water for domestic purposes. And then looking at what is the balance that may be used commercially."
But farmers said a commission wouldn't work.
Federated Farmers water spokesman Chris Allen said generations of governments had done nothing about the water and it should be left to communities who understood their waterways.
"There's iwi, there's local communities where you'd be a farmer, an irrigator, a skifield operator. Everyone wants to have a say in their water and taking that away from them and moving it to Wellington just doesn't fulfill all those things about collaborative governance of water."
Some people had become too emotional about the extent of the pollution and the commercial take for water companies, he said.
"How much money are they making, how much water are they taking? To me its quite a contentious question as to what are we actually dealing with? From what I'm aware there's about six or relatively small events compared to the some of the takes that go on round the place. I'm not supportive of that approach at the moment but how big is the problem."
Roger Young of the Waterrights Trust in Canterbury said the group had been working for more than 16 years to preserve lowland freshwater streams threatened by the rapid growth in farming.
He said so far it was losing the fight but he did not think a waterways commission was the answer.
"On the surface it seems like a good idea because there does need to be something to break the impasse. Our concern would be that a commission would lead to even more delays. We've had an experience in Canterbury of collaborative consultations and that hasn't worked."
Roger Young said a moratorium on further farming intensification and irrigation would be a better solution.
Dame Anne said New Zealanders would become extremely angry if waterways that belonged to everybody were captured in the interests of a few.
Doing nothing was not an option, she said.
Want more ?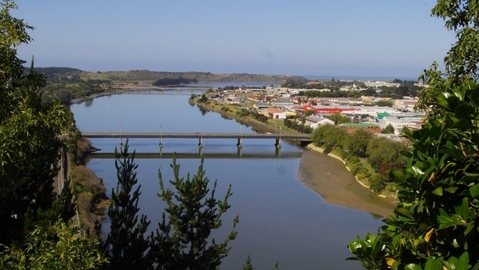 Income from water use must be used to preserve sources and not be captured by private interests.
By Anne Salmond  (Photos below from TRM Library)
Across New Zealand, people from many different backgrounds have a deep and passionate connection with their waterways. From children who grow up swimming and playing in and beside streams, rivers and lakes, to those who fish for whitebait, eels or trout; from iwi with powerful connections with ancestral waterways, to kayakers, rowers and waka ama paddlers, rivers run through our lives. Rivers, waterfalls and lakes are part of who we are as Kiwis.
When streams or rivers dwindle and disappear; or are choked with sediment and forestry debris; or become toxic with algae and too dangerous to fish and swim in, many of us experience grief or anger. This was evident in the videos filmed by the 'Choose Clean Water' group of young people who travelled around New Zealand over the summer, talking with Kiwis in many different communities about the state of their waterways. They collected thousands of signatures on a petition to Parliament, asking that the Government ensure that our streams and rivers are safe to swim and fish in.
In response, the Minister for the Environment said it was not practical to achieve this, an answer that dismayed many Kiwis. Anger has also been aroused by stories about private companies extracting millions of gallons from local aquifers for derisory sums, selling the water offshore and making vast profits in the process.
There have been cartoons about rivers being piped into Fonterra tankers and carried away, or poisoned by pollutants. Large 'Iwi vs Kiwi' advertisements have been posted in national newspapers, warning New Zealanders that their rights to freshwater may be at risk from discussions being conducted behind closed doors between iwi representatives and the Crown.
Town vs country, businesses vs communities, iwi vs Kiwi, fresh water is becoming dangerously divisive in New Zealand. And yet, as the Prime Minister has said, "No-one owns the water." While some would argue differently, this is a position with a long history in both the common law and in ancestral tikanga in this country.
Sir William Blackstone's "Commentaries on the Laws of England" sum up the common law position: "Because water is a moveable, wandering thing, and must remain common by the law of nature … I can only have a temporary property therein." Since it is "untamed", fresh water is held to exist in a state of nature, where property rights do not apply.
On the side of tikanga, the ancestral power of waterways has been eloquently expressed in many Waitangi Tribunal hearings. In the Whanganui River claim, for instance, an elder lamented, "It was with huge sadness that we observed dead tuna [eels] and trout along the banks of our awa tupua [ancestral river]. The only thing that is in a state of growth is the algae and slime. The great river flows from the gathering of mountains to the sea. I am the river, the river is me. If I am the river and the river is me – then emphatically, I am dying."
If I am the river and the river is me – then emphatically, I am dying.
This living link between Whanganui iwi and their ancestral river, along with the status of the river as He Awa Tupua (a river with ancestral power) was recognised in the Whanganui River settlement when, for the first time in the world, a river was declared to be a legal person with its own identity and rights.
In both traditions then, water is seen as having a life of its own, independent of people. A river cannot be owned, although we all may have a stake in it. Use rights, rather than property rights, apply.
It follows that if no-one owns the water, those hotly divisive Iwi vs Kiwi debates about ownership are irrelevant. Instead, the question turns upon use rights, and how these can best be managed, in the interests of waterways and people alike.
Many are suggesting pricing as a better way of managing water. Where the use of water leads to private benefit – for irrigators, bottling companies, electricity generators, other commercial users or households, for example, that may well apply.
This flow of income, however, must be devoted to both waterways and the community in general. It must not be captured by private interests.
One way of achieving this would be to set up a Waterways Commission, perhaps headed by the Parliamentary Commissioner for the Environment to ensure its independence from vested interests, funded by user charges for fresh water.
This Commission would be charged with working with communities – iwi and Kiwi side by side – to take care of waterways across New Zealand. It would be informed by both science and tikanga, and tasked to assist iwi, private owners and public bodies in the restoration of their local waterways (aquifers, groundwater, springs, streams, rivers, lakes, wetlands, estuaries and harbours).
In this way, everyone gains – both waterways and people. Farmers and other private owners, iwi and community groups alike can seek assistance for bush buffers and catchment plantings, and waterways can be properly managed and restored. There will be significant gains for biodiversity, carbon management, and New Zealand's reputation as a 'clean, green' country. Kiwis and tourists can again enjoy the pleasures of safe swimming, paddling and fishing in our streams, lakes and rivers.
If there are better solutions, now is the time for them to be debated. This should happen out in the open, where ideas are 'blown about by the wind, and shone on by the sun' – as on a marae, or in a fair and open democratic society. We all have a stake in our waterways and in the future of our children and grandchildren. We must all have a say in how these controversial matters are resolved.
Distinguished Professor Dame Anne Salmond is a former New Zealander of the Year and the patron of Te Awaroa: 1000 Rivers Foundation.
(Historic posters photos from "SELLING THE DREAM" The Art of Early New Zealand Tourism by Peter Alsop, Gary Stewart, Dave Bamford. 
These posters, from the era before TV and colour photography changed the face of tourism promotion, demonstate how the previous Government and Council administrations acknowledged the importance and promoted our 100% pure rivers and trout fishing…
(Thank you to Dave Bamford for the book. )
With all the recent publicity to protect NZ's rivers, to keep them safe for swimming etc. we need to remind everyone how fortunate we are with the Tongariro river – one of the few remaining year round trout fisheries where the water quality is as close to 100% pure as we are likely to find.
This is despite the power company hydro dams and canals and tunnels built without regard to retaining water quality but to maximise hydro electric power generation in the 1970's.
For anyone concerned about water quality as the barometer of a healthy life then move to Turangi now.
The residents of Turangi know we are indeed fortunate being located at the head of the river before all the pollution going into Lake Taupo is spread down the Waikato….
The earlier message from Dame Anne Salmond dated January 2014 is still the same…
 We must work together and prioritise the restoration of waterways over short-term commercial gain.Te Awaroa Foundation aims to have 1000 rivers across New Zealand safe enough to swim in by 2050.
I agree with Gareth Morgan – our rivers are in trouble, and getting worse. He's also right, in his Dialogue piece last week, that various land users are wrecking waterways across New Zealand, passing on the costs of the damage to the public and future generations.
Intensive dairying is one major culprit, as the Commissioner for the Environment has noted.
But dairying is not the only contributor to dirty streams and rivers across New Zealand.
Forestry is also harming our waterways. Many forestry companies plant pine trees right to the water's edge and harvest hundreds of hectares at a time, leaving the land bare and exposed.
When it rains, soil and logs slide down into streams and rivers, raising their beds, causing flooding downstream and damaging land, houses, roads and bridges.
When rivers run brown, they dump sediment into ports and harbours, harming shellfish beds and fisheries.
Like dairying, the forestry industry needs to clean up its act. Sheep and cattle farmers are also part of the story. Many still graze their animals right down to the water's edge, letting them defecate and urinate in the water.
Horticulturalists and wine producers urge local and central government to subsidise big dams and irrigation systems, draining rivers beyond sustainable levels.
The Government awards exploration licences to oil companies for drilling that involves hydraulic fracturing, polluting millions of gallons of water.
Planners and engineers allow major damage to waterways from earthworks, and bury urban streams underground in drains and culverts – out of sight, out of mind. Industrial waste is dumped in urban waterways.
As streams and rivers run through the landscape, they encounter many different land uses.
Dairy farmers alone cannot restore our waterways to health, although they can make a big difference.
We all have a stake in the state of our rivers.
To take care of these waterways, a major mind shift is required.
To quote some of my friends on the East Coast, we need to treat our rivers as taonga, not toilets.
Ideas of unlimited growth and "ecological services" are based on these myths, which find no support in contemporary science.
It is unlikely that the cure for the state of our rivers can be found in current economic models, reflecting as they do these archaic illusions and the interests of particular powerful elites, at the expense of other people, future generations and the planet.
Rivers, streams, wetlands, lakes, springs and aquifers are quite literally the lifeblood of the land, the foundation of much of our prosperity, supporting farms, industrial enterprises, families and communities.
Most Kiwis understnd this. According to recent surveys, the state of waterways across New Zealand is the country's No1 environmental challenge.
When a Whanganui elder says, "I am the river and the river is me. If the river is dying, so am I", he is not speaking metaphorically, but acknowledging the fundamental interlock between the health of rivers, and the health and prosperity of the communities they sustain.
As the Pure Advantage group has argued, New Zealand needs to look for its wealth in smart production systems that enhance, rather than degrade waterways, land and the ocean, keeping profits close to home to build prosperous, cohesive communities.
This can include good waste management from animals as well as people, with urine and dung being used for bio-gas or a source of nutrients, and waste water being recycled instead of being used from the source.
The idea of bio-regions, which takes the diversity of our beautiful islands as a strategic advantage, creating iconic destinations and regional brands of wine, foodstuffs and other products that can be sold at a premium, is another.
The Morgan Foundation's Clean Rivers Award honours and empowers those Kiwis who are restoring our rivers.
The Land and Water Forum tried to set environmental bottom lines.
"Daylighting" projects and "liquid urbanism" that seeks to create liveable, sustainable towns and cities with streams, lakes and rivers at their heart are other visionary initiatives.
In the Te Awaroa Foundation, to be launched in the next couple of months, we'd like to work with all of these groups to create a problem-solving network that makes river restoration more straightforward, and a movement that gives it irresistible momentum.
By 2050, 1000 rivers across New Zealand will be safe for our children to swim in.
 The choice is clear.
We can spend our time lamenting the demise of clean rivers and streams across New Zealand, and blame each other for this catastrophe.
Or we can work together, town and country, business and consumers, government, citizens and ratepayers, on a world-leading effort to ensure that our rivers are in a state of ora (health, wellbeing and prosperity), for our own sake and that of future generations.