Anglers hope this is true…
River quality the top priority
Written by  Pam Tipa
Images of 100% pure Tongariro River from TRM library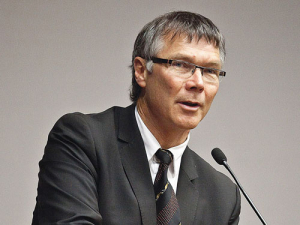 David Parker.
 Environment Minister David Parker says water quality in rivers is his number-one priority and he will soon take a range of measure to the Cabinet.
The first steps will be to reduce further degradation, he told the Agcarm summer conference, last month.
"In the last decade in New Zealand, when we already knew we had problems with nutrient and effluent inputs into rivers, we allowed an extra one million cows, each one producing the effluent equivalent of 15 people.
"That was like having an extra 15 million people discharging their effluent to the land," he said. "Some of that gets into our waterways."
There are three ways to encourage the changes in land-use practices needed to overcome these problems – education, regulation and price, Parker says.
Technology can be enabled in respect of these three mechanisms to assist in improvements, but those three ways are the only influence the government has. Of those, regulation is the most important.
"We need decent rules under the Resource Management Act imposed by central government under a national policy statement setting environmentally based limits on nutrient and effluent loss to waterways," he says.
"The rule of law must be enforced and [failing this] we will have this continuing trend of degradation of our waterways. And that trend is still bad: about 70% of monitored water sites in NZ still have increasing levels of nitrates.
"I think there is now agreement across industry, rural industries and populations – whether they live in rural or urban areas – that we expect our rivers to be clean enough to swim in."
Parker says he has been working on lots of detail on fresh water and will soon take this to the Cabinet. His first priority is to stop further degradation.
"If we can do that we will get time to clean things up. We have got to stop things getting worse.
He wants an "effective and enduring" system for managing water quality and its use including maximising economic value for the longer term.
The Government wants to reshape the economy to better use land, people and money.
"We want higher-value knowledge-intensive lower-emissions activity," Parker says.
The change required to shift to a low-emissions sustainable economy "is not simply about dairy and cow numbers".
"I am interested in seeing our agriculture sector innovating to reduce its environmental impact on water, climate change and land."
He wants a higher-value "exit" from environmental problems, not a decrease in economic output.
Parker acknowledges many farmers and volunteers are fencing waterways and planting trees. "But at industry level a greater shift is required to ensure sustainable land use."
He says many local councils, moving to improve water quality, face challenges under the National Policy Statement for Fresh Water. Officials and working groups are looking at how this can be improved.  For instance, Parker thinks E.coli levels should be weighted towards summer when people are swimming.
He says sediments and nutrients are at the top of the list, but other indicators of water quality are being looked at.
The Land and Water Forum has contributed much to the debate and found consensus on many issues, Parker says. But "thorny" issues remain unresolved.
He has asked them for advice on two key issues: what can be done between now and 2020 to prevent further damage; and how do we stipulate nutrient and sediment loads within catchments in a way that precludes each regional council having to engage in similar, tough debate.
Parker says he wants to facilitate the development and deployment of technologies to improve productivity and the environment.
You will pay!
Asked about financial help for farmers so they can improve environmental practices, Parker says the government is "not going to pay people to stop polluting".
The cost of changing land-use practice will be borne by the farming sector, he warns.
But he says technology research will assist in moving some land to higher value uses, "if we can strip some of the labour cost disadvantage of higher forms of land use, for example in horticulture by using robotic sensor technology, mobile positioning gear, the internet of things and big data….
We've got this confluence of technologies now that enable us to both make money from the technology and improve that technology.
"In Canterbury, for example, I think you will see over coming decades a move back to cropping and horticulture because there will be more money in it."
Freshwater rights are back on the agenda, but the Government is divided
OPINION: There's one hell of a stoush brewing in Cabinet over freshwater rights.
If there's one thing water-related that Labour and NZ First will never agree on it's giving Māori ownership rights to freshwater, and as for the Greens – they won't have a bar of continuing any large-scale irrigation schemes.
The whole issue of water has been bubbling away for years – there's a reason the former National Government never did anything substantial – it's a Pandora's box.
National had their supply and confidence partner, the Māori Party, to deal with during the last nine years but that's nothing compared to the issue Labour has with both NZ First and the Greens.
Labour's water royalties policy architect, David Parker, is gearing up to go full steam ahead with water issues, now that his focus on getting the CPTPP across the line is all but delivered, but it's not just NZ First he's got beef with.
Parker's policy allows for a royalty on commercial water consumption, which will help with the cost of cleaning up waterways and resolving long-standing Treaty water claims.
It's understood there's huge tension between Parker and Crown/Māori Relations Minister Kelvin Davis, who is feeling sidelined by Parker's determination to make progress on water rights quickly regardless of whether that's the right approach for iwi.
Davis wants to learn from past mistakes with the Foreshore and Seabed legislation, which led to Māori voters leaving Labour in droves, and more recently changes to how the Overseas Investment Office (OIO) scrutinises forestry.
Davis is said to be furious about the pace in which the OIO changes were pushed through, leaving no time for genuine iwi consultation, and is warning Parker the brakes need to go on before he opens the floodgates on freshwater rights.
Māori put their faith back in Labour at last year's election when they returned all seven Māori seats to the party and banished the Māori Party from Parliament in the process.
But with those seats comes expectation – more expectation than most.
Davis knows that and while Parker might see a big legacy on the horizon if he can get freshwater rights resolved once and for all, if he doesn't get it right for iwi then it's Labour's Māori caucus who will wear the mess.
As for NZ First, they have their voter base to worry about and with Labour already starting to suck up their votes in the latest polls, their concern is warranted.
Deputy Prime Minister Winston Peters is staunchly opposed to any policy he sees as separatist and giving Māori any sort of ownership over water will always be a step too far for NZ First.
The party can't afford to sell out on that for the sake of a coalition government because it would come back to bite them in the polls in 2020.
While Labour might have them on board when it comes to charging water bottle companies, that's about where it stops.
The Greens are sitting on a supply and confidence deal with Labour that says no new irrigation schemes will be funded and the existing ones will be wound down.
Irrigation scheme operators are crying out for clear information on what that means but the advice seems to be almost non-existent as Labour tries to work out how to keep them and the Greens happy.
All these differences and various relationship-managing exercises are all part of a wider powerhouse growing within Cabinet – something the Greens don't have a seat at.
Prime Minister Jacinda Ardern, Peters, Finance Minister Grant Robertson and Parker are the grunt behind any of the big decisions coming out of Government.
There's a wider group – Justice Minister Andrew Little, Housing Minister Phil Twyford and Regional Economic Development Minister Shane Jones have influence as well.
But that's where Davis' frustration grows further.
He was made deputy leader of the Labour Party during the campaign and to his credit helped unite the Māori vote behind Labour.
But he's not in the inner circle in the same way Peters, Robertson and Parker are and it's understood those feelings of being sidelined on issues like freshwater (where iwi relations are crucial) led to words between him and Parker ahead of Cabinet's meeting on Monday.
Ardern and Peters were both in the Pacific leaving Davis as acting Prime Minister and chair of Cabinet committee.
But it's understood things were delayed on Monday as Davis, Robertson and Parker had words about the way some issues were being progressed without fully considering the impact it would have on Māori.
All of this comes on the back of another meeting at the weekend – this one between Little and leaders from the two groups divided over the mandate for the Ngāpuhi Treaty settlement.
Davis, Jones and Peters all descend from Ngāpuhi along with a number of other MPs but even they don't all agree on the best way to reach a settlement.
The meeting in Wellington was leaked to media despite a promise from the four iwi representatives in attendance to keep it secret.
Little is adamant he can get a deal on the table with the country's largest iwi by 2020 but that will require a bit of compromise from all parties involved.
While Tuhoronuku, the entity currently holding the mandate for negotiations, was accused by the former Treaty Negotiations Minister Chris Finlayson of holding things up, it seems the pendulum may have swung the other way.
Representatives from Te Kotahitanga have a new opportunity under Little to be involved in the mandate but questions are being raised as to whether there's ulterior motives at play.
That extends to suggestions some Ngāpuhi who hapu to Ngati Hine are trying to keep their own separate deal alive.
That's not an option the Government would consider but Little is running out of time before he will have to put an end to talks and just make a decision.
If that decision doesn't please everyone there's only one place it will go – the Waitangi Tribunal.
That's the same place that's been dealing with freshwater rights issues, which have got so out of hand it's made its way to the Supreme Court.
Between Ngapuhi's settlement and Labour's royalty policy there's a lot of water to go under the bridge before the next election.
 – Stuff
Ruamahanga: the story of a river
Mt Bruce
Long before it meanders its way through Wairarapa's flat farmland and past the region's five towns, the Ruamāhanga River begins in the mountains.
In the depths of the Tararua Ranges smaller streams trickle their way through the cold, green hills before coming together and emerging in Mt Bruce.
Its first public appearance, underneath State Highway 2, goes mostly unnoticed as cars and logging trucks rumble past overhead. Twenty-odd metres below it gently eases around a bend, flowing briskly but not powerfully, and flanked by an abundance of moss, ferns and birds.
Even from the bridge overhead it's easy to make out a colourful array of stones on the riverbed. That it's exceptionally clear is no real surprise, since it's here that the river is at its most pure and unpolluted.
The Ruamāhanga is monitored regularly by Greater Wellington Regional Council (GWRC) along its length, measuring nearly every aspect of its health: rainfall, nitrate levels, phosphorus, depth of clarity.

The first measuring point is north-east of the bridge, and the site's exhaustive stats confirm what is already clear to the naked eye. Here, with little to trouble it, it's in the top 25 per cent of similar sites nationally for key markers such as water clarity, E.coli rates, and nitrogen and phosphorus levels.
"The Ruamāhanga generally has an excellent water quality in its headwaters," senior environmental scientist Dr Mark Heath says.
"That's up around Mt Bruce, and the same is the case with the major tributaries that go in to the Ruamāhanga out of the Tararuas. The Waingawa and the Waiohine have fairly good or excellent water quality."
That it begins so pristine is unsurprising, says freshwater ecologist and lecturer Dr Mike Joy. "It's like all of our rivers," he says. "It starts out really good, then gets worse as it goes downstream. When it comes out of the Tararuas it's perfect, but by the time it gets to the bottom it's not so good."
Masterton
The dampness that envelops Mt Bruce like a blanket, and never seems to leave, disappears after just five minutes driving down State Highway 2. The forest canopy abruptly clears, and the terrain instead rolls out into flat, open farmland.
It's here the Ruamāhanga's two biggest issues begin to emerge in the form of urban and rural pollution. "[The breakdown of polluters] is not something that we can absolutely pinpoint at the moment, but we know what the key pressures are," Heath says.
"They include urban discharges, current land use and intensive pastoral land use in particular. As the river moves through farmland, and passes through the towns of Masterton and Carterton, it picks up contaminants from the surrounding land. You have urban and rural runoff … so as we progress down the Ruamāhanga, the water quality progressively decreases."
The first town the Ruamāhanga flows past is Masterton, Wairarapa's biggest town. It's here that it encounters the first of the sewage treatment plants, which have been a major cause of the river's woes in the past. It's not hard to see where the river's unkind nickname, the "Sewer-mahanga," comes from.
But according to Masterton District Council things are changing. Around four years ago the Homebush wastewater treatment plant upgrade was commissioned with the intention of drastically reducing sewage flow into the river.
Council assets and operations manager David Hopman points to the effect it's had at the Cliffs, a popular summer swimming spot south of Masterton. According to current data, it's low risk, with only a 0.1-1 per cent risk of illness.
"[The Cliffs] was actually a caution site in 2014, the first year of the new plant," Hopman says. "Since we've commissioned the plant – and we can't take full credit for it because there's been lots of other things going on as well – but since 2014 [water safety has] gone from critical right down to low risk. We actually have done a pretty good job there over the past three years."
Hopman says water quality is something the council has taken seriously. It recently adopted a new wastewater strategy focused on increasing wastewater disposal to land, removing even more from the river.
"This is all sort of a new development," he says. "The first step we've proposed involves us actually setting up a demonstration farm at Homebush where treated wastewater will be used. It'll be … basically used like a farmer would, for growing different types of crops and different types of produce, as a way of demonstrating that treated wastewater can be used effectively for making money."
A bit further down from the Cliffs is the Gladstone Bridge monitoring station. Just outside Masterton, Gladstone is a farming community with no shops, a charming country pub, a high-decile school and a wheelwright's shop.
Though the river flowing under the bridge is picturesque, the data captured there is less so. There's an obvious decrease in water quality at the Gladstone Bridge monitoring station; while it's not necessarily bad overall – as Heath points out, water quality has gone from an excellent down to a good state – it's still declining.
Levels for nitrogen and phosphorous are in the worst 50 per cent of like sites nationally, if trending in the right direction. E. coli levels are fine, although you might not want to go swimming there in May when the numbers spike alarmingly.
How much of this is because of farming is hard to pinpoint and, like the impact of farming on New Zealand's waterways in general, it's a contentious topic. While few deny farming has an impact on rivers, how bad that impact is and what the farming community is doing to ease its environmental footprint is subject to passionate debate.
Jamie Falloon, the provincial president of Federated Farmers' Wairarapa branch, bristles when asked about farming's role in polluting the Ruamāhanga.
He says singling out farmers is unfair, citing measures the community has taken, including heavy fencing of paddocks near rivers, floodbanks, and the current practice of discharging water to land instead of into rivers.
"The myth of dairy cows as major polluters is not backed by the data," he says. "In the past 28 years or so we've seen water quality remaining stable, even with intensification, so it's very disappointing to hear farmers being blamed for water-quality issues."
Fencing off farms to prevent stock wandering into rivers is crucial, since animals can wreak environmental havoc if allowed to freely wander along riverbeds. Falloon says 97 per cent of waterways are now fenced, although Mike Joy says farmers could be doing more.
"What [Federated Farmers] actually never tell you is the 97 per cent they classify as rivers are all the larger rivers," Joy says. "What we know is that 75 per cent of the nutrients and the problems in our rivers come from the smaller streams that don't meet [Federated Farmers] criteria and therefore don't require to be fenced off."
Lake Wairarapa
Lake Wairarapa isn't quite dead, but it's not far off. Wairarapa's largest lake is currently classed as supertrophic, the last stage before becoming extinct.
It wasn't always this way. Until the 1960s the Ruamāhanga flowed into Lake Wairarapa, but the Lower Valley Development Scheme, designed to protect surrounding farmlands from flooding, cut it off. For the lake, the results have been disastrous.
The point where the river steers away from the lake is called, for obvious reasons, the diversion. It's easy to spot on a map, as the river's curving, twisting route is suddenly straightened and forced through man-made stopbanks. Driving beside the river there's little to see, the river's protective banks shielding it from view.
It's an odd area, isolated and eerie. The Geoffrey Blundell Barrage Gates, which control the the flow of the water from the lake into the Ruamāhanga, appear almost out of nowhere. Some barriers around the little building are rusted, and water at the foot of the gates is an ugly, murky yellow-green.
The point where the Ruamāhanga used to meet the lake was a sacred spot for Māori. In his role as an environmental manager for Ngati Kahungunu, Ra Smith knows more about the river than most. He's aware of not just its current health status, but also the role it has played for local Māori, spiritually and physically.
"We think of rivers as a character, and the character of the river holds the mauri, often called the life force," he says.
"On the opposite side from where the two rivers meet is the whare kōhanga, a place like a maternity ward. When babies were born they would take the whenua [placenta] and be buried in the ground, and they would take the baby down into the river and make up a lullaby. It was no rockabye baby, it was eight verses of very intense lullaby about the blessing of the baby and its life expectancy."
Smith says the most important confluence was where the Ruamāhanga met Lake Wairarapa, a point that no longer exists.
Plans may be afoot for a revival, however. The idea of redirecting the Ruamāhanga back into Lake Wairarapa has been floated at a GWRC meeting, and a feasibility study is being undertaken to see if such a rejoining would be possible and useful.
This part of Wairarapa hasn't been kind to the Ruamāhanga either. Although Featherston's wastewater plant empties out just upstream of Lake Wairarapa, the wastewater plants of Martinborough, Greytown, Carterton and Masterton have all poured into it by the time it has flowed past Martinborough. Naturally, it's also encountered runoff from towns and a large amount of farms.
The council monitors the river at Pukio, just south of Martinborough. Unsurprisingly, by this point its clarity has dropped significantly. It is in the worst 25 per cent of similar sites throughout the country with a visibility of just 1.1 metres (although, of course, this varies: it's much better in February and March, and much worse in May and June). Turbidity, an index of cloudiness of water, is in the worst 50 per cent of like sites, and the same goes for nitrogen and phosphorous.
There were once plenty of natural resources to soak up nitrates and phosphorous, but changes in the river's character have sapped its ability to fight back.
"Right now we're facing the challenge of nitrates in water," Ra Smith says. "Something that was in the rivers and around rivers were wetlands, which would take out nitrates, and it seems like they do an okay job taking out phosphorous as well.
"Both those two and sediments were all able to be taken care of by wetlands. But while our waterways once had a lot of wetland, now we have only three per cent left.
"I understand the reason [for clearing them] about flooding and all those different things, but I wonder if there was a better way of working together and …finding a way to collaborate a little better. Our rivers are managed currently for flood protection, whereas I think there's a wider management that should be operating."
The sea
The point where Lake Onoke opens out into Cook Strait is typical of Wairarapa's southern coastline: long, isolated beaches, with winds whipping in from the sea and large, white clouds hovering overhead.
It's a rugged area that feels like the end of the earth, but it's actually not quite as remote as it seems: the journey from the Ruamāhanga's first public appearance at SH2 to where it flows into the ocean, via Lake Onoke, takes less than an hour and a half to drive.
Like Lake Wairarapa, Lake Onoke also suffers from poor water quality. According to some sources, the reason it's in a bad state is because of polluted water fed into it by the Ruamāhanga.
There aren't any GWRC measuring posts as the river flows into Lake Onoke, with the last outpost further up past Martinborough. Given the trip it's taken, the state of Lake Onoke, and measurements taken on lower points of the river, it's clearly not in perfect health.
Is the river getting healthier? It depends on who you ask and how it's measured. According to Mark Heath, in the past five years the river has basically stayed the same in terms of quality.
"Our five to 10 year trends are showing that there has been no discernable change in water quality," he said. "However, trends don't necessarily reflect the state of water quality. So even though there is no trend … it still could be in a poor state and needing improvement."
Still, he says, efforts to help have been making a difference.
"What I can say is that there's been an absolute tidal wave of farming communities and urban communities within the Ruamāhanga who are actively trying to get out and monitor the river, to get out and do more to look after it," Heath says.
"A big part of that has been Federated Farmers, which has come up with a design for Wairarapa catchment communities – the actual sub-catchments in the Ruamāhanga."
For Ra Smith, the river's future is uncertain. Along with the current crop of issues it faces, there are others – most notably climate change – that pose hazards into the future.
"We've got pretty big concerns about the Ruamāhanga," he says. "In terms of conservation, I'm quite worried about the natural character of the river. I would characterise the river as kind of an expressway for water, which is about how to get water away from places as quickly as possible … you can see the reasons why in, terms of erosion and things like that, but there might be other solutions.
"The future could be exciting, but there are challenges. The big challenge will be climate change. We will get water at a different rate, and while we get the same amount of water we'll be getting it faster, so that a storm event that will bring water and if we're in the same process of getting it out as soon as possible flooding would almost certainly occur."
Like Heath, Smith says the work done by various organisations is encouraging. Working with both the Masterton District Council and the Ruamāhanga Whaitua committee, he sees people trying to help.
"We are definitely looking at directions we might take in concrete ways," he says. "It's a good start for, perhaps, a better future for our water."
The Ruamāhanga Whaitua committee
Established in late 2013, the committee's objective is to create the Whaitua Implementation Programme, containing recommendations for the management of resources within the Ruamāhanga catchment. Headed by Peter Gawith, the committee consists of representatives from local iwi, the community and Greater Wellington Regional Council.
The Lower Wairarapa Valley Development Scheme
One of the country's largest flood protection efforts, the scheme was begun in 1963 to protect farmland surrounding Lake Wairarapa from flooding. According to Greater Wellington Regional Council it has largely succeeded in doing so, although the cost to Lake Wairarapa is a different matter. It's worth $86 million and has an annual maintenance budget of $500,000.
What is Mauri?
According to the Māori Dictionary, Mauri is "the essential quality and vitality of a being or entity". It's closely related to the concepts of mana and tapu; "Without mauri," Te Ara, the Encyclopedia of New Zealand says, "mana cannot flow into a person or object."
 – Stuff