Many anglers have asked about the extent of the damage seen in local forests from the cyclone back in February. Lake O fishos in particular have noticed the progress and asked SWMBO (She Who Must Be Obeyed is the Manager of everything including forestry at TRM) more about it. Of course She knew absolutely nothing about it and usually changes the subject to the weather, which She also knows even less about…
So thank you for the following Lake Taupo Forestry Trust's update by Lake Taupō Forest Management managing director Geoff Thorp, which will be more informative to answer all your questions.
This refers only to Lake Taupo Forest Trust. Their map below indicates their forests extending from east of Turangi and Motuoapa north to Waitahanui.
The forests to the south of Turangi managed by Lake Rotoaira Forest Trust were similarly damaged by the cyclone.
Cyclone recovery work continues
October 2023
The salvage of the 2.2 million cubic metres of windthrow in Lake Taupō Forest is continuing – by the end of September it was about 40 per cent complete.
In this update, Lake Taupō Forest Management managing director Geoff Thorp says there are 21 crews operating in the forest, producing around 220,000 m3 per month. To put this in perspective, the normal harvest level is around 500,000 m3 per year.
As always, looking after the people working in the forest is paramount, and close attention to health and safety is a standard part of every day. So far this has worked well in the salvage crews, with no significant incidents. Every effort is being made to ensure the 300 truck and trailer loads of wood that leave Lake Taupō Forest every day are transported safely.
We have been pleased with the condition of the wood which we are salvaging It is now eight months post-cyclone, and while we are starting to see some sap-stain in logs, so far this has not been at a level at which customers have stopped taking wood. We do know though that temperature is a key driver of sap-stain development, and as we progress through spring and into summer this is certain to become more of an issue.
Harvest returns to the Trust are well down on ''normal'' harvest, but they are still positive, despite the higher production costs, the damage to some stems, and the depressed state of both the domestic and export log markets. While poor markets obviously contribute to lower returns, overall we are happy with the market situation as it has led to reduced harvesting around much of the region and in turn assisted us in securing the extra harvesting and trucking resources we need to get as much salvage done as possible before wood quality deteriorates.
At the current rate of production, we should complete the salvage work by around June 2024.
Meanwhile, normal forestry work continues – the winter planting programme of 460ha has just been completed. This did not include any areas affected by the cyclone – those will start to be replanted in 2024. Other significant operations in the last three months have included 700ha of thinning, while pruning work will restart now that the planting is complete.
Many of you will have noticed that lots of the pines – particularly in stands under 10 years old – are looking more brown than green. This is the effect of dothistroma: a needle-cast fungus that infects and ultimately kills needles.
Younger trees are particularly susceptible to this fungus, which becomes very prevalent in years following wet summers – such as last summer.
The fungus seldom kills trees, but it does slow their growth.
We get dothistroma every year, but the levels of infection this year throughout the central North Island region are possibly the worst on record. The disease is managed through aerial application of copper spray, and a large spray programme is scheduled for this summer.
The dark green area is off-limits to owners while the harvest continues.
Please stay safe and away from operations
The massive post-cyclone harvest operation continues through the southern half of the Lake Taupō Forest.
Crews are working to get logs onto trucks and off to market. So there are a lot of machines operating in the area.
As in any commercial forest operations, there are rigorous health and safety measures in place, and these are limiting owners' access until the big salvage job is complete.
Please respect the current restrictions. Access signage will guide forest visitors, including taped banners in the no-go areas.
There is a still a large area available for recreational purposes in the northern section and we are now in the longer summer hours for access which are:
· Between 4pm and 11pm weekdays
· Between 5am and 11pm weekends and public holidays
A reminder that access to Lake Taupō Forest is for owners only and requires a permit. Read about that here.
LTFT trustees and local kaumatua Les Owens went out to welcome Thomas Wharerau from Simon Logging and the six-man crew prior to them starting.
Trustees welcome new crew
A crew from Simon Logging Contractors last month joined the big harvest effort within the Lake Taupō Forest.
LTFT trustees went out to welcome Thomas Wharerau from Simon Logging and the six-man crew prior to them starting.
There are currently 21 harvesting crews working in Lake Taupō Forest dealing with the fall-out of the February cyclone damage.
Lake Rotoaira Forest Trust website provides the following comments:
There are areas that have been impacted upon by the Cyclone which we have not yet been rectified
There may be areas that still have trees "hung up" or trees on the ground that are under stress – we ask owners to be vigilant in selecting where they go and where they park vehicles
Owners need to stay clear of the obvious areas that harvesting needs to be carried out over the summer period as these areas are hugely dangerous
Normal conditions on access permits still exist and the priority for trustees is to reopen access as soon as safely possible.
Owners are reminded that all conditions for access permits exist as per "Pre-Cyclone" but extra care is needed accessing the forest as there are more hazards than normal.
The Lake Rotoaira Forest Trust controls an area of 16,447 hectares, which is the area originally leased to the Crown for forestry (the Schedule 1 blocks). In addition, the Trust administers 1,260 hectares of land (Schedule 2 blocks) around the edges of Lake Rotoaira and 6,350 hectares of land (Schedule 3 blocks) along the Desert Road. These blocks are under the Trust for administrative purposes only and do not contribute to the Trust's forestry business.
Of the 16,447 hectares, 9,683 (59 per cent) have been afforested. Having 41 per cent unplanted is unusual in NZ plantations, and reflects the conservation and environmental protection desires of the owners and the Crown, which are embodied in the lease agreement.
The land was originally leased to the Crown in 1973 for 70 years, enough to grow two rotations of pine trees. In 2002 the Crown's lease was changed to make it one rotation lease and as a result leased land is now returned to the Trust following the harvest of the first rotation crop. Consequently the Trust now owns 5,727 hectares of planted rotation forest. This represents 60 per cent of the total planted area in Lake Rotoaira Forest, with the Crown owning the remainder.
LAKE ROTOAIRA FOREST – AREAS BY AGE CLASS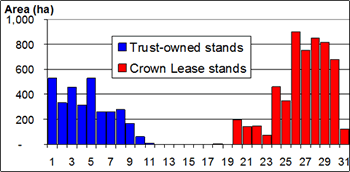 Around 98 per cent of the forest is planted in Pinus radiata – the remaining 2 per cent is mainly Douglas fir, eucalyptus, and larch. Planting commenced in 1973 and was completed by 1989, while harvesting commenced in 1999. The radiata is managed to produce a high quality tree crop, and nearly all is pruned and thinned. The trees are grown on a 30 year rotation.
The forest is being harvested at a level of 190,000 m3 per annum, a rate which can be sustained indefinitely. The logs produced are sold to a wide range of mills, with between 20% and 25% being exported in log form.
Lake Rotoaira Forest is managed by NZ Forest Managers Ltd, a privately owned forest management company which undertakes contract management of forests. NZ Forest Managers is based in Turangi and has a long history with this forest. The Trust is happy to have this proactive and dynamic company looking after its investment.