About the Fishery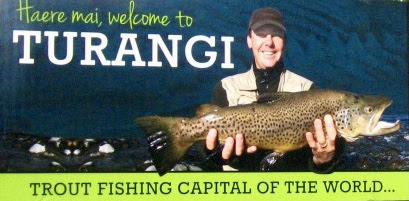 The signs outside Tongariro River Motel entering Turangi from the north claimed for many years it is "The Trout Fishing Capital of the World". We believe it. We trust you will too after trying the fishing. This reflects the mighty Tongariro River which flows through the town. If you doubt the claim, we challenge you to find any other town with one supermarket and two tackle shops. In addition there are various other online wholesale suppliers. So trout fishing is very important to us. Indeed, that is the main reason we live here. So let us convert you into a fly fisho.
To qualify for the lofty, ambitious title of the Trout Fishing Capital of the World, a number of special characteristics need to be satisfied, such as, huge numbers of trout, reasonable affordability, easy access, a natural wild fishery, BIG trout, rainbow and brown trout, all year round fly fishing, a variety of fishing styles (dry, nymph, wet lines), fly fishing spawning runs and resident trout, offering big deep pools, fast riffles, slow glides, boisterous runs, long reaches, endless pocket water, ... something for everyone.
The entire Taupo fishery offers great variety, casting into a big river or small tributaries, various river mouths, lake edge fishing, boat fishing (jigging, harling, trolling, fly fishing), plus lots of back up facilities, various good specialised tackle shops, world renowned historic precedents, acknowledgments by international visitors, good river and track management by the Department of Conservation.
But, within the region, the Tongariro River is the jewel in the crown.
To fully consider all those characteristics individually requires a full length book. (TRM have  a library of local fishing books available for guests.) Meanwhile the following is a brief introduction to encourage you….
Huge Fishery
The Tongariro River annual spawning runs have been estimated between 60,000 - 80,000. The annual catch is about 12,000 - 15,000. About half of those are released after capture. These are in addition to resident trout. So the Tongariro qualifies in having ample trout waiting to be caught.
Affordability
A Taupo Fishing Llcence for the season is less than NZ$100.
2023 Fishing licence application details are available on TRM's LINKS page.
24-hour licence
Adult
$20.00
Child
$4.50
Week licence
Adult
$42.00
Non-resident
$65.00
Whole-season licence
Adult
$99.00
Senior
$90.00
Non-resident
$129.00
Family (allows for up to four children)
$149.00
Child
$12.50
Bag limits
Maximum daily bag is six trout. Minimum length: 35 cm. Considering what is on offer, the licence fees have to be a bargain.
Access
The Tongariro River has drive on access over most of the most popular pools up to the winter limit. There are walking tracks down either bank and most pools are wadeable. The upper river is more difficult as the stones get slippery but these get ground down to sand by the time they reach the lower river. Chest waders are the most popular - either breathable or neoprene style. From TRM you can easily walk to several famous pools within five minutes - i.e. Bridge Pool, Judges Pool, Island Pool, Major Jones Pool.
Even during peak spawning runs when there are over 100 anglers on the river it is still easy to find good fishing water or a pool to yourself. You may have to walk a bit further - perhaps 20-30 minutes, but that is easy on good tracks.
Free guiding maps to all the main pools are available in TRM's office.
Wild fishery
The famous Tongariro rainbows originated from Steelhead stock from the American West Coast. Instead of growing in the Pacific Ocean the trout migrate from the river redds down to Lake Taupo. This lake covers over 600 square kilometres. About three years later they return up the river.
Spawning runs occur all year round although the biggest runs are in winter to early spring. The Trout Centre on the Tongariro includes a hatchery used for kids fishing days and for supplying other locations without the natural physical advantages of a wild fishery.
BIG trout
The minimum length is 35 cm. The average weight is over 3 pounds. Can you believe there is a strong body of local opinion that these are too small. A couple of years ago the average was over four pounds. A few years ago the average was over five pounds. Whether this is a seasonal fluctuation remains to be seen. Every year trout over ten pounds are caught in the Taupo fishery. Minimum size charts are available in TRM's office.
All year fishing
The inaccessible upper reaches of the Tongariro River are closed off from end of May to December for spawning but the main accessible river is available for fly fishing all year round. In addition there are other locations where spinning is permitted.
On the lake the boats use all methods from down riggers, trolling, harling, jigging, depending on the conditions.
Variety of fishing styles
The big T was traditionally fished with wetline using streamer (Olive Wooly Buggers are the most popular) flies but there are now just as many nymphing using weighted (Hare & Copper)nymphs or lead to trawl the river beds. Smaller tributary rivers favour lighter gear. . During summer months the evening rises are legendry for dry fly and in late summer the cicada hatch is also keenly awaited by dry fly anglers.
Variety of fishing locations
In addition to the "Big T" there are many other well known trout fishing rivers north of Turangi - towards Taupo - including Waiotaka, Waimarino, Tauranga-Taupo, Hinemaiaia and Waitahanui. Other well known lakes for fishing in the Taupo region include Kuratau, Rotoaira and Otamangakau (Lake "O").
In total there are 13 rivers and streams, 5 lakes and 32 river mouths.
World renowned
Probably the river first became subject to closer scrutiny from the wider trout fishing community in the 1920s when American Author, Zane Grey wrote his Fishing Eldorado book on fishing in NZ's and trout fishing on the Tongariro River where he camped. Since then it has featured in many books and publications and more recently in videos and DVDs.
International visitors
Even some of the Pools are named after the British Royal Family (Duchess Pool). The procession of anglers includes the Royals, Presidents, and celebrities (?). It is a rare day on the river when you do not find several overseas anglers. The region is particularly popular with Australian and American fishos.
When the physical environmental characteristics are combined you will appreciate that the Tongariro is a world class trout fishery. At TRM we are reminded of this every week when international anglers stay and enjoy this wonderful natural fishery. It is a miracle it has survived colonial civilisation and development such as hydro electricity schemes and there is now appropriate awareness as to its unique values and heritage with suitable management processes and controls in place to ensure it will continue beyond the 21st century.
Once the importance as a trout habitat and nursery for Lake Taupo was relatively insignificant, as indicated by the development of the hydro electric power scheme in the 1960s affecting the flow for ever, but now the greater economic importance of tourism combined with the enhanced awareness of the natural environmental values, i.e. from TRM guests like you, should ensure the future restoration and management of a famous world class fishery to protect it forever.
Turangi deserves its reputation as the Trout Fishing Capital of the World, (and we are not biased at all) as it is located alongside the mighty Tongariro River (300 metres from the equally famous Tongariro River Motel). Tongariro River is the largest river draining the central mountains and is the main spawning river for big browns and fighting steelhead rainbows, migrating each year from Lake Taupo to the spawning tributaries.
The Tongariro River really is the jewel in the crown of the Taupo fishery.
Planning a fishing trip to the Tongariro River?
Twelve tips for your check list before your visit the Tongariro River
Homework
Time spent on reconnaissance is never wasted. Regularly study the various daily websites before you come. They are a bit like fishing, i.e. learn to read between the lines. They will give you a wide up-to-date overview of what you might expect.
Read any fishing books on the Tongariro or Taupo region for background but most are too historical to be of any practical use and are just to tell a good story to enhance your preparations.
Accommodation
Suitable accommodation should indicate their commitment to local angling by offering many essential extras like a free smoke house for anglers, rod racks in all rooms, freezing and fish cleaning facilities, Didymo cleaning station (see Bio-security section below), a  website with loads of fishy info and regular fishing reports, waders and boots available, flies for sale, even provide their own river map of all the pools, latest local fishing magazines, etc.
The best more considerate establishments even have a single person raft available for guests…particularly suited to our trophy lake - Lake Otamangakau.  So it makes good sense to always stay with them if you want your fishing to improve. If they are prepared to go to those lengths to satisfy anglers requirements then you know you must be in good hands. There will be other anglers also staying there to swap lies.
TRM is the ideal accommodation for anglers  Book now
Gear
Rods, reels, lines, flies are discussed separately below. Generally the Tongariro is the most forgiving of rivers. All manner of fly fishing equipment has been used and all can be successful. Some anglers naturally prefer to bring lots of equipment and that is fine but you can get away with just the most simple basic gear. A fishing vest holding all the usual paraphernalia is normal as a good check to make sure you have not forgotten anything.
Polaroid sunglasses are essential. Wading poles will help if you are not used to deep wading but not essential providing you are firm on your feet. Deep wading is not necessary but practiced by many imagining they have an advantage over others. Landing nets are carried by a minority of anglers. Beaching the trout before release is normal. At the moment the fishery management are encouraging anglers to kill more trout rather than 'catch & release' as there are too many in the system.
Rod
Always an interesting choice as everyone has their favourites, but a 6 or 7 wt. x 9 feet 6 inches would appear to be the most popular. No need for the most expensive rod in the tackle store as long as it can cast it will do the job. Anglers can carry two rods for different rigs - i.e. one wet line, one floating line; one nymph rig, one dry & dropper rig.
Reels
Anything that works with room for heaps of backing. No big deal on the Tongariro - the most forgiving of all trout rivers.
Lines
Most anglers prefer a weight higher than the rod. Traces - usual mixture of 8 to 10 pound fluro or 1X to 4X although most locals manage with just the cheapest maxima - 8 lb. or perhaps 10 lb. for wet lines. Tapered leaders may be an advantage for summer dry fly action during the cicada season but many get away with just one weight of maxima to the weighted nymph and perhaps a lighter weight to the point fly. Maximum of three flies are allowed.
Most trout - rainbows and browns - are between 3 pound and 4 pound. Don't overload in preparation for a ten pounder. There is nearly always plenty of water to play your fish to tire them - if you are lucky enough to hook a seven pound brown or very feisty rainbow then take more time to land them.
Flies
Bring the lot. One misunderstood aspect is that on the Tongariro River you are not fishing for river trout. These are lake trout returning to the river to spawn. Therefore they are not 'educated' like clever river trout having spent all their adult life chasing smelt (whitebait) around the lake and the new river environment is quite foreign to them. The main different characteristic of Tongariro anglers may be the heavy 'bombs' or tungsten weighted nymphs they 'throw' rather than gracefully cast. In most pools during winter runs if your fly is not on or close to the river bed you will not intercept with the trout hugging the bottom.
There are two tackle shops in Turangi village so plenty of advice on the hot fly of the moment is close on hand. For the cost of a few flies you will get lots of latest info too, so well worth visiting.
Clothing
Depends on the season… Bring the usual as dictated by seasonal temperatures and include an extra thermal layer for colder days. Wading jackets will help to survive winter months. Wet wading is becoming more popular from December through to end of March-April.
Most anglers still wear breathable waders in summer.
Neoprene chest waders preferred for winter runs.
Wide brimmed hats are strongly recommended to shade the sun, protect the ears to ward off flying bombs. Camo gear is not compulsory.
Transport
A car is preferred by most but some more select anglers' accommodation will have mountain bikes available to guests. A 4WD cross country vehicle is not needed for the Tongariro River.
Cheap rental cars are popular as they can go anywhere…
Good anglers access tracks are available on both banks for walking most of the river banks. Easy anglers access is one of the best features of the Tongariro River.
Casting
Of course basic casting ability is important but not half as important as most books and guides might have you believe.
You do not need to perfect the double haul or roll cast. Just as important is the "presentation" - the ability to achieve a natural drift, mend and be prepared for lots of unusual casting styles due to the heavy weight bead head nymphs used to penetrate the depths.
Moving about is more beneficial than casting ability. Spend the same time improving individual fitness will be more beneficial than casting lessons.
Guides
If you are a novice then professional fishing guides will definitely help lift your game.
If you are a competent angler and only need to know where to go then a guide is unnecessary.
If you want to learn a new technique like the famous Tongariro roll cast then a guide will definitely help.
If you want to access the upper river beyond the winter limit then a raft will definitely help.
If you want to catch more than your best friend then guides will be beneficial to make you keep on trying longer.
All anglers really need on the Tongariro is basic skills and perseverance.
Bio-security
The Tongariro River and Taupo fishery is free of the invasive Didymo which threatens most South Island rivers and lakes.
Be sure to CHECK, CLEAN, DRY all your gear before arriving from any other waterways and practice the same between local rivers. See Check Clean and Dry video below for more information.
A responsible accommodation will supply you with Didymo spray bottles and a bin to soak your waders between rivers.
Etiquette
Always be considerate. Never wade in above another angler who may be nymphing up-river.
Similarly never walk in below a wet liner working their way down river. Just ask first.
Courtesy costs nothing and makes such a difference to the enjoyment of your day.
Know your regulations - minimum length 40 cm., maximum take home 3 per day, fly fishing only...
River Manners: (From Sporting Life's web site)
As the rivers get busier, the need to adhere some for of rules is necessary to make it fair on all anglers. Once again anglers seem to be standing in one spot and not "moving through" a pool. The idea is to have a few casts, move, have a few more casts, move, and when you either get to the head of the pool when nymphing, move out of the river and go back to the tail of the pool behind everyone and work your way back up river. If wetlining once you have waded to the tail of the pool, move out and go back upstream to the head, slip in behind the last angler and work your way downstream again. Also if you get to a pool, ask the angler who is already in there if you can have a fish if they are conducting a different method than you. Most times anglers don't mind. If one is nymphing and the other wetlining then you generally agree to cross over in the middle. If someone is not moving, then ask them politely if it is ok to go around them to carry on.
Failure to adhere to these so called RULES will result in tension, causing anglers to get frustrated and then eventually an exchange of expletives can spoil the day's fishing.  Before yelling at someone, go up to them and have a quiet word to them to see if they know what they are doing as they may be new to the river and unaware what to do. Imagine how you would feel if you were new to an area and someone was going off at you. It would put you right off fishing.
Releasing Trout So They Survive
Never
Squeeze a fish or rip the hook out.
Throw a fish back into the water.
Put your fingers in the gills (the gills are the lungs of the fish ... it is what they breathe with).
Kick a fish onto the beach or bank.
Let a fish flap around on sand or rocks (causes them to loose scales / slime which protects their bodies from diseases / fungus infections).
Let the fish flap on the floor of your boat (causes them to loose scales / slime which protects their bodies from diseases / fungus infections).
Always
If possible leave the fish in the water and unhook it without touching it.
Bring the fish carefully to the edge of the stream or river and unhook it while it remains in the water.
if this isn't possible, use a soft knotless net and carefully lift the fish into the boat.
Leave the fish in the net, and without touching it, remove the hook using long-nosed pliers/forceps.
If you must handle the fish, wet your hands first (dry hands can cause fungus / disease to take hold on the fish).
Hold the fish gently upside down to remove the hook as trout lie more quietly in this position.
Support the fish gently upright in the water until it swims away.
Tauranga Taupo River
Anglers should note the following warnings:
Caution 1
Due to the large Kaimanawa catchment area the TT floods quickly and goes down again just as quickly. It fishes best after rain.  The large catchment provides a natural run-off unaffected by any dams or hydro schemes.
Caution 2
Disregard older maps showing TT vehicle or walking access from the northern side road leading through the metal quarry. This is private land and the owners do not permit angler access. The new access road is located about 300m south of the main road bridge and provides vehicle access up-river to a car park with the river being a short walk from there. (If you cannot find it enquire at the service station on the south side of the road bridge.
Caution 3
The Tauranga-Taupo mouth is very deep and can be dangerous for wading. There is good fishing off the spit especially at night. From an anchored boat or dinghy, you can cast over the deep lip with a fast sinking line. This area fishes well throughout the year but is especially productive in late autumn through winter as fish congregate near the mouth preparing to run upstream to spawn. Due to the depth of the water day time fishing is productive, and night fishing is less affected by moonlit conditions as the trout tend to lie very deep.
Caution: Extreme care should be taken when wading this area and if intending to fish in the dark, do take the time during daylight to check it out. Access is from Heuheu Parade (Te Rangiita) just south of the main road bridge.  Good fishing is available from just inside the mouth from Te Heu Heu Parade.
Waitahanui (Waytoohardanui) River
(phonetic spelling)
This is a popular spring fed river due the closer proximity to Taupo about 15 kn north.  The best access is directly to the end of Blake Road for upper river tracks - fantastic scenery alone makes it worth while.
Hinemaiaia River
Ditto re Waitahanuiuiuiui above…  The flow is controlled by a hydro power dam.  The first spawning runs each season are usually in the Hine.  The road access up the southern side from the road bridge provides good access to three car parks and walking tracks.
Lake Otamangakau ("Lake O")
This lake has a dual reputation of consistently producing trophy trout as well being a challenging lake to fish. Most of the fish population are rainbows with the highest average weight in the region. Anglers who are looking for trophy trout should visit this small lake. Shoreline angling, float tubes, and raft or boat fishing are all popular. Casting to large fish cruising in the channels and between the weed beds is also popular especially if you first take time to observe the fish's routine then target the fish at the appropriate time.Lake Otamangakau is only a 15 minute drive from TRM, with two good boat ramps and shoreline angling spots, this lake should not be over looked if you want the opportunity to fish to large wild trout.
NEW Regulations were introduced in 2022 as follows:
Regulation changes
Four regulation changes aim to protect the long-term future of this iconic trout fishery.
The season at Lake Otamangakau will start a month earlier from 1 September.
Lake Otamangakau will close to trout fishing during February – the hottest month of the year.
A maximum takeable size of 55 cm for trout will be introduced. There will be no minimum takeable size.
The bag limit will be reduced to two trout.
Important Anglers' Notes:

1  It is referred to as Lake "O" because that is what you will usually catch - nil. Unless you are a competent fly fisho with high level of skills to read the water and match the hatch etc. then we suggest leave it to the experts.

2  What ever you usually wear on the Tongariro, add a couple more layers. It gets real cold up there.
Other Rivers
There are many exceptional fishing rivers within a short 5 - 15 minute drive from Turangi. The healthy reputation of the Taupo fishery is due to the many fine fishing rivers that feed into the lake. Spawning runs on these rivers tend to regularly produce very exciting fishing. However, it is not only the large numbers of good fish but also the variety of river fishing habitat within such a short distance which attracts so many anglers to this region year after year.
If you prefer small streams using light gear on large fish then you can try the Poutu, Waimarino, Waiotaka, or the Hinemaiaia. These rivers and streams offer excellent fishing, particularly when spawning runs are on, or river mouth fishing before runs have started, then follow the fish as they move upstream.